Our home has a long history and was inhabited by large families, probably up to thirty people in addition to cows, horses, pigs and hens.
Now on the first and second floors you can find furnished rooms with wood furniture, larch flooring and spruce for the roof with exposed beams on the upper- floor.
All rooms have a flat screen T.V., Wi – Fi connection, private bathroom with a shower, hairdryer and courtesy set.
Our fishermen guests can ask for a personalized alarm with an anticipated breakfast ( time to be agreed on ). They may have informative material and detailed information on fishing zones, storage place and washing area for their fishing equipment.

On request at a charge:
Fishing permit for various areas of Trentino
Possibility of a packed lunch with typical Trentino products.
Guided excursion service.
Lessons for beginners or perfecting techniques,

Fishing In The Adige
A few minutes walk from our farm, strong currents, curves, holes and bends of the Adige river, characterize this stretch of the Vallagarina Valley, which are the favourite places of large Marbled Trout and Grayling fish. The Adige is a particular river that if known well, offers great fishing excitment.
Prices are per person a day
Single Room
Double Room
Double Room, Single
Use
Triple Room
Overnight stay with breakfast
€ 45,00
€ 37,50
€ 50,00
€ 32,00
Prices are per person a day
Overnight stay with breakfast
Single Room: € 45,00
Double Room: € 35,00
Double Room, Single Use: € 50,00
Triple Room: € 31,00

Provincial Residence tax € 1,50 per person/ night, children are excluded until the age of 14 years. For other exemption cases you can request the complete list. The tax is due for a maximum of 10 consecutive nights.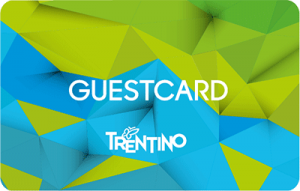 Supplements and Reductions
Children aged 0 to 3 years who sleep in their parents bed : free.
Small bed/ Cot for children aged 0 to 3 years € 5.00 per night.
Additional bed for children from 4 to 12 years old € 18.00 per night.
Guests staying with us will have the Trentino Guest Card free of charge, to visit more than 70 castles, museums and natural parks in the whole of the Trentino region, as well as for the free use of public transport throughout the province.
General Information
Arrival and Departure
The guest rooms are available from 15.00 on the day of
arrival and check out by 10.00 on the day of departure.
Guests on the day of arrival are kindly requested to present themselves at the reception before 19.00, otherwise, subject to prior agreement, the rooms will be considered available for other guests.
Booking Conditions
The reservation is confirmed upon arrival of the deposit amounting to 30% of the total amount, to be paid using the following bank coordinates:
Beneficiary: Azienda agricola Troiani di Troiani Andrea e Sabrina ssa
C.da Sdruzzinà, 20 – 38061 ALA – Trento
Banca: Cassa Rurale di Ala
IBAN: IT 68 C 08011 34320 000011031443
SWIFT: CCRTIT2T01A
In case of cancellation in the month before the arrival date, the deposit will not be refunded.
Or contact us at +39 0464 672825 or info@agrituralpicchio.it
and will have the Trentino Guest Card free